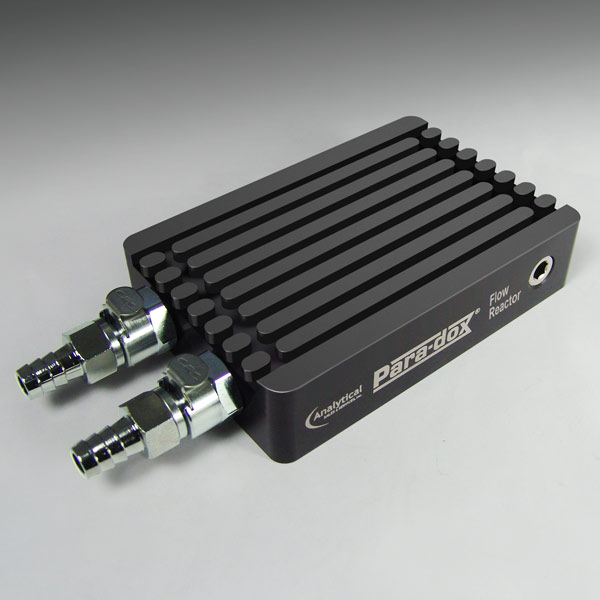 Flow Reactor

The Para-Dox® Flow Reactor is a highly configurable, liquid cooled or heated flow reactor for the Analytical Sales and Services Lumidox®II platform. The new Para-Dox® Flow Reactor sits directly on top of any solid base, diffuse mat Lumidox®II array.  Pair with a solid base, diffuse mat array, and a Thermal Transfer Deck for a complete flow solution. Users may reconfigure the Flow Reactor in various different ways, including multiple input streams using the machined channels. Tubing may be changed by the user with insertion kit (coming soon). 
*SLAS/SBS footprint
*Dripless CPC fittings 
*1/8″ OD unions for ease of analyte injection 
*User-Configurable output/input locations. Side or Top (Factory set to side).
*Exposure volume 2mL using 1/8″ OD 1/16th" ID tubing. Exposure volumes may set to 1mL if two streams are used. 
*Tefzel Tubing Provided 
*Crowned design reduces light bleed
*Compatible with water, glycol based coolants, and silicone based coolants

Click image thumbnail or SKU below for specific product details

Image
SKU
Description
Units
Price
Qty / Add to Cart

266100
Flow Reactor

Each

$

661.00

Related Products:


Image
SKU
Description
Price
Qty / Add to Cart

TCubeEdge
TCube Edge Chiller

$

4,054.00

415993-46IN
Teflon® FEP Tubing, 1/8" OD x 1/16" ID x 46"

$

24.00

415993
Teflon® FEP Tubing, 1/8" OD x 1/16" ID x 50'

$

180.00