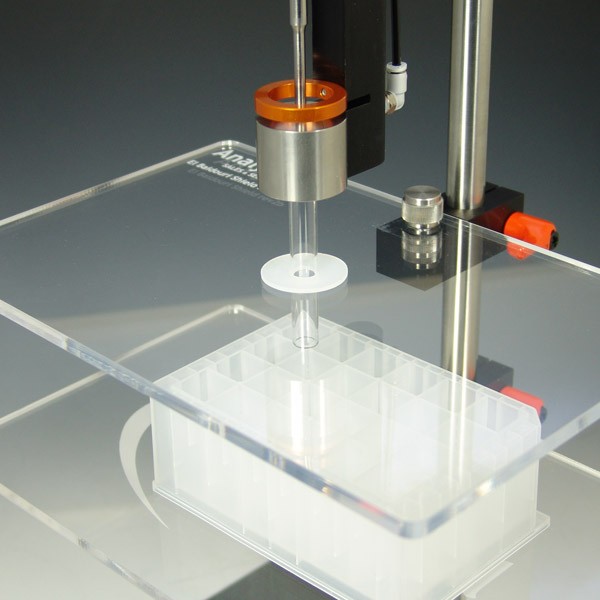 El Baidouri Shield
Developed in collaboration with Dr. Fouad El Baidouri, a research associate at Harvard School of Public Health's Neafsey Lab, the El Baidouri Shield offered by Analytical Sales & Services, Inc. is an anti-contamination barrier which can be used when performing highly sensitive work, such as infectious disease research.
The shield solves the issue of micro punch-card particles (which may be ejected during operation) potentially falling into adjacent wells, resulting in undesirable cross-contamination. A semi-clear gasket washer creates a seal around the glass pipette and prevents the micro-particles from entering neighboring wells.
The shield attaches securely to the existing DBS punch unit. Installation is quick and easy via the provided set-up guide. Cleaning the shield is simple, as enough space is provided for users to remove and dispose of the particles that are caught by the shield.

Click image thumbnail or SKU below for specific product details

Image
SKU
Description
Units
Price
Qty / Add to Cart

327970
El Baidouri Shield for DBS Punch

Each

$

235.00

Related Products:


Image
SKU
Description
Price
Qty / Add to Cart

327300
3mm Dried Blood Spot Card Punch, Complete System

$

2,320.00

327400
4mm Dried Blood Spot Card Punch, Complete System

$

2,320.00

327500
5mm Dried Blood Spot Card Punch, Complete System

$

2,320.00

327600
6mm Dried Blood Spot Card Punch, Complete System

$

2,320.00