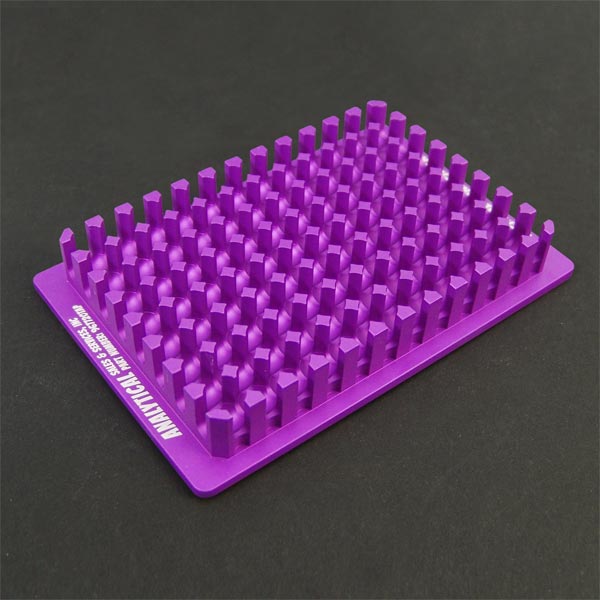 Thermal Adapter Plates
Analytical Sales and Services' Thermal Adapter Plates (TAPs) are a series of precision-machined aluminum "heatsinks" meant to closely conform to the underside geometry of polypropylene 96-well collection / microtiter plates. With a design led by the needs of the biochemical and pharmaceutical industries, these products are able to improve the results that can be achieved with high throughput experimentation processes. Thanks to the high thermal conductivity of the aluminum, the TAPs can function with either a heating block or a cooling block. Each well of the plastic collection plate or microtiter plate can be kept at the required temperature, allowing the user to avoid the thermal gradients that would occur if the collection plates were placed on a flat plate cooler.
Analytical is able to further support high-throughput experimentation by supplying other temperature control devices. The Thermal Adapter Plates are fully compatible with Analytical's Thermal Transfer Decks (TTDs). These devices allow the user to either heat or cool their polypropylene collection plate to a highly uniform controlled temperature and can be securely fastened to the Thermal Adapter Plate via 4 screws.
In addition to enjoying full compatibility with the most popular collection plates of the industry, the Thermal Adapter Plates may also be helpful in cooling PCR plates. This extra functionality comes from the SLAS standard 9mm pitch which allows the TAPs to be used with many different non-skirted PCR plates.
Key Features:
Even temperature control
High and low temperature usability
Compatibility with Analytical Sales and Services cooling products
Potential for custom geometries
Usable with some of the industry's most popular microplates
PCR plate compatibility
SLAS dimensions
High-visibility purple anodized coating
Analytical Sales & Services can make Thermal Adapter Plates to accommodate select polypropylene collection plates (minimum quantities may apply). Please call 973-616-0700 for more information. 

Click image thumbnail or SKU below for specific product details

Image
SKU
Description
Units
Price
Qty / Add to Cart

967720TAP
Thermal Adapter Plate for 967720 PP Collection Plate

Each

$

613.00

59623-23TAP
Thermal Adapter Plate for 59623-23 PP Collection Plate

Each

$

685.00

17P687ZTAP
Thermal Adapter Plate for 17P687Z PP Collection plate

Each

$

617.00

968810TAP
Thermal Adapter Plate for 1ml TrueTaper® Collection Plate

Each

$

555.00

968820TAP
Thermal Adapter Plate for 2ml TrueTaper® Collection Plate

Each

$

750.00

TAPSCREW
Stainless Steel Screws

100

$

16.00

TAPWASH
Washers

200

$

14.00