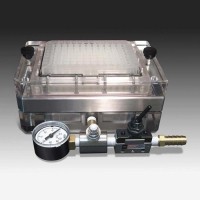 Vacuum Manifold for SPE Sample Filtration
• Sturdy Clear Acrylic Construction
• Adjustable Vacuum Control
• Easy Access to Filtrate
• Compatible with All Standard Filter Bottom Microplates
• Collect Into Any Storage Plate
• Compatible with Robotic Handling
Our new Advantage™ Vacuum Manifold Filtration System is constructed of tough acrylic for optimum performance and visibility. Our newly designed vacuum control system allows you to start/stop the vacuum using a simple toggle switch. A convenient needle valve allows you to adjust the pressure as needed (located to the left of the regulator). Simply turn the needle valve clockwise to increase the pressure and counter clockwise to reduce the pressure. Our vacuum manifold uses an integral flat gasket between the collection plate and the filtration plate which stays totally secure within the system, however, replacement of this gasket is simple and fast. The vacuum seal is a Teflon® encapsulated O-ring which extends exceptional performance and durability.
The Advantage™ Vacuum Manifold Filtration System allows you to collect into any storage plate (including low volume collection plates) and is compatible with robotic handling systems. A spacer is supplied for use with low volume collection plates.
Analytical Sales and Services offers a large collection of filtration plates and collection plates, both of which are featured on this site.  Browse or call today for your free 4-Color Catalog!
Can I dry out organic solutions inside a glove box without the use of a blow down evaporator?
Yes, the vacuum filtration system can be converted into a vacuum dry unit. The regular plate (or acrylic "lid") will seal against the inner gasket and create a vacuum "box".
Collapse


Click image thumbnail or SKU below for specific product details

Image
SKU
Description
Units
Price
Qty / Add to Cart

96844
Vacuum Manifold for SPE Sample Filtration

Each

$

1,550.00