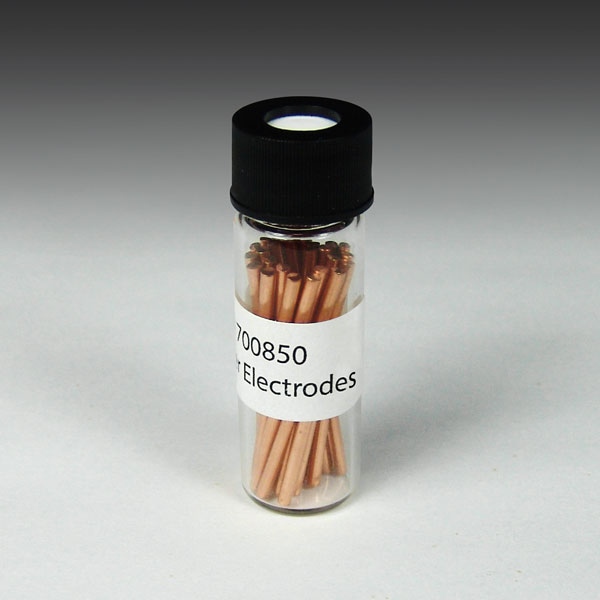 Electrodes for HTe‾Chem
Analytical Sales offers a myriad of electrode choices for use in HTe‾Chem Assemblies. They can be used as either cathodes or anodes depending on your experimental needs. If your goal is to determine which electrodes work best, try our electrode kit which includes 8 of the 9 electrode options (platinum not included).
Note: Proper function relies on the use of two dissimilar electrodes in each well position. For example, you can pair a nickel electrode (as anode) with a copper electrode (as cathode). Most electrodes come in packs of 25, please consider this when ordering.

Click image thumbnail or SKU below for specific product details

Image
SKU
Description
Units
Price
Qty / Add to Cart

700400
Electrode Kit for Electrochemistry Assemblies

Each

$

352.00

700500
Graphite Electrodes

30

$

158.00

700500-250
Graphite Electrodes - Bulk Pack

250

$

1,313.00

700525
Lead Electrodes

25

$

146.00

700575
Cadmium Electrodes

25

$

450.00

700550
Tin Electrodes

25

$

100.00

700600
Zinc Electrodes

25

$

25.00

700600-250
Zinc Electrodes - Bulk Pack

250

$

220.00

700650
Platinum Electrodes

25

$

5,093.00

700656
Platinum Electrodes (Row Pack)

6

$

1,223.00

700675
Iron Electrodes

25

$

275.00

700700
Stainless Steel Electrodes

25

$

25.00

700700-250
Stainless Steel Electrodes - Bulk Pack

250

$

190.00

700725
Cobalt Electrodes

25

$

688.00

700750
Nickel Electrodes

25

$

25.00

700800
NiChrom Electrodes

25

$

25.00

700800-250
NiChrom Electrodes - Bulk Pack

250

$

204.00

700850
Copper Electrodes

25

$

25.00

700900
Aluminum Electrodes

25

$

25.00

700950
Magnesium Electrodes

25

$

88.00