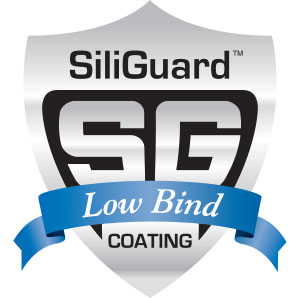 SiliGuard™ Low-Bind Coated Plates
Get the most from your samples. SiliGuard™ is a low bind surface coating which helps prevent compounds from sticking to polypropylene surfaces.
Unique SiliGuard™ Treatment
Reduces non-specific binding
Great for sticky compounds
Low protein/peptide binding
Analytical Sales & Services can apply SiliGuard™ treatment to any of our polypropylene products (e.g. collection plates, HPLC vials, micro-centrifuge tubes). Call for details.

Click image thumbnail or SKU below for specific product details

Image
SKU
Description
Units
Price
Qty / Add to Cart

968810GC
1mL TrueTaper® 96-Well Collection Plate with 50uL Tapered-Bottom Wells, with SiliGuard™ Low Bind Coating

25

$

307.00

968820GC
2mL TrueTaper® 96-Well Collection Plate with 100uL Tapered-Bottom Wells, with SiliGuard™ Low Bind Coating

25

$

400.00

96340GC
340µL 96-Well Collection Plate with V-Shaped Well Bottoms, with SiliGuard™ Low Bind Coating

25

$

297.00

96355GC
355µL 96-Well Collection Plate with U-Shaped Bottom Wells, with SiliGuard™ Low Bind Coating

25

$

312.00

96390GC
390µL 96-Well Collection Plate with Flat Bottom Wells, with SiliGuard™ Low Bind Coating

25

$

297.00

96065GC
650µL 96-Well Half-Height Collection Plate with V-Shaped Well Bottoms, with SiliGuard™ Low Bind Coating

50

$

924.00

17P687GC
1mL 96-Well Collection Plate with Round Well Bottoms, with SiliGuard™ Low Bind Coating

20

$

400.00

17P687ZGC
1mL 96-Well Collection Plate with Round Well Bottoms, with SiliGuard™ Low Bind Coating

20

$

260.00

17P557GC
1mL Clear-Vu™ 96-Well Collection Plate with Round Well Bottoms, with SiliGuard™ Low Bind Coating

24

$

450.00

960101GC
1mL Half-Height 96-Well Collection Plate with Shallow V-Bottom Wells, with SiliGuard™ Low Bind Coating

32

$

419.00

96ST10GC
1mL 96-Well Collection Plate with Short V-Bottom Wells, with SiliGuard™ Low Bind Coating

10

$

246.00

96ST10DRGC
1mL 96-Well Collection Plate with Short V-Bottom Wells, SiliGuard™-Coated, with Holes for Water Bath

10

$

270.00

59623-23GC
2mL 96-Well Collection Plate with V-Bottom Wells, with SiliGuard™ Low Bind Coating

10

$

210.00

27P557GC
2mL Clear-Vu™ 96-Well Collection Plate with Round-Bottom Wells, with SiliGuard™ Low Bind Coating

24

$

450.00

27P687GC
2mL 96-Well Collection Plate with Round-Bottom Wells, with SiliGuard™ Low Bind Coating

20

$

400.00

38120GC
120µL 384-Well Collection Plate with SiliGuard™ Low Bind Coating

24

$

480.00