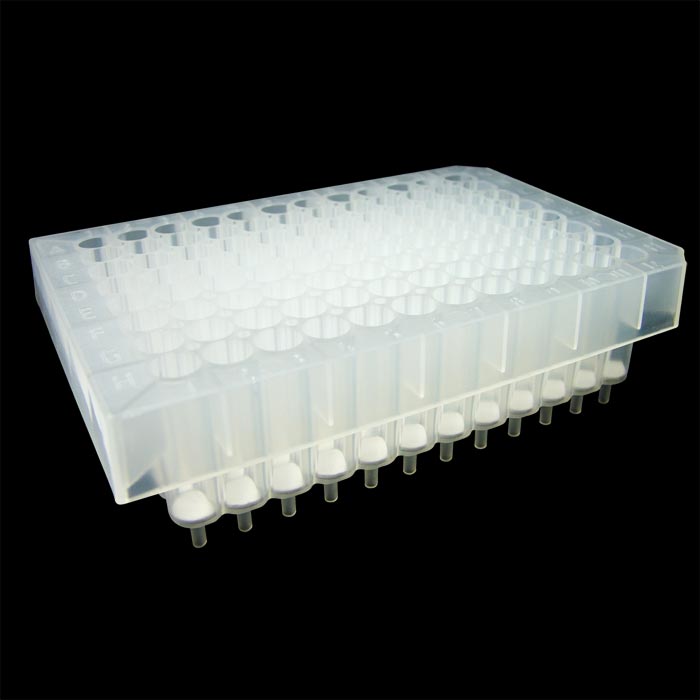 96-Well: Protein Crash plates
Advantage™ Protein Crash Plates for protein precipitation and hepatocyte filtration provide an extremely simple and rapid method for removing protein compounds from samples prior to downstream analysis. The pore size of the filter decreases with the increase in depth so that larger particles are trapped on the surface and throughout the interior of the filter. The plate has a unique hydrophobic membrane configuration which retains the acetonitrile/ sample mixture during mixing or inoculation steps. Protein is removed from the plasma via acetonitrile precipitation and vacuum filtration. The ending filtrate is ready for HPLC injection or target UV quantitation.
Advantage 1mL Protein Crash Plates are manufactured under tight tolerances in our NJ facility. We are able to provide this product at a price point that makes protein precipitation plates a viable option once again!
• 100% sample integrity
• Manufactured from high quality solvent resistant polypropylene
• Large sample volume capacity
• Proprietary frits produce optimized Protein Precipitation
• Use for plasma, urine, and other bioanalysis samples
• Use for hepatocyte filtration
• Processes 96 samples in less than 20 min
• Fully automatable, saves analyst time
• Works on all current manual or automated processing instrumentation
Example Protocol for the Advantage Protein Precipitation and Hepatocyte Filter Plates:
Add desired organic solvent (typically 3 x sample volume).
Add sample (unknown, Std, QC, etc).
Cover Filter Plate and Vortex.
Draw liquid through filter via Centrifugation. Vortex again for 1 minute.
You can also filter via vacuum. Extract samples with our 96 position Vacuum Manifold.
NOTE: Each well can hold up to 1.0 mL of liquid above the filter.
ACN or MeOH will not break through our filter plates for hours.
When covering the filter plate we recommend using our Silicone / PTFE cap mat (# 965007) or sealing film (# 961801)

Click image thumbnail or SKU below for specific product details

Image
SKU
Description
Units
Price
Qty / Add to Cart

60513
1mL, 96-Well Protein Precipitate Filtration Plates

Each

$

75.00

60513-5
1mL Protein Precipitate Filtration 96-Well Plate

5

$

250.00

60223-10
2mL Protein Precipitation Plate with Grated Screen

10

$

1,137.00

60223-25
2mL Protein Precipitation Plate with Grated Screen

25

$

2,744.00

60223
2mL Protein Precipitation Plate wth Grated Screen

Each

$

128.00

60223-5
2mL Protein Precipitation Plate with Grated Screen

5

$

588.00