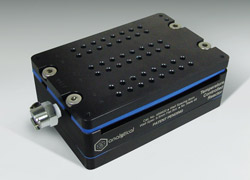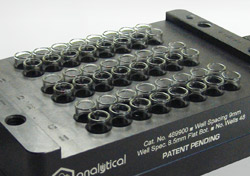 Temperature Controlled Reactor
Analytical is pleased to offer the new Temperature Controlled Reactor (TCR). The TCR is a fluid-filled reactor that keeps temperature consistent throughout the block and around your samples. It greatly reduces excessive heat that can be caused by external sources, such as a Lumidox®II solid base LED array. Any fluid within the specified range can be pumped through the reactor to maintain well-to-well temperature uniformity.
Sample-to-sample thermal uniformity can be difficult to achieve with high-throughput chemistry. Extreme temperature differences, thermal inconsistency, and thermal overload can all impact experimental validity, especially when using techniques like photocatalysis. The TCR solves these issues.
Standard 96-well reactor blocks have no internal fluid path and no way to accurately set and control temperature uniformity. As such, high-powered LEDs used for photocatalysis reactions can produce an overall reactor heat gradient of up to +/- 13°C, with severe heat island effects. Analytical's TCR is capable of controlling temperatures to a uniformity of +/- 1°C. Compatibility is one of the most important parameters of the TCR design. Internal testing ensured that the Temperature Controlled Reactor is fully compatible with all accessories provided by Analytical.

Simulated heat maps of a standard 96-well Photoredox Reactor Block vs. a Temperature Controlled Reactor (TCR), when used with a Lumidox®II LED array at full power (stage 5).
Provides users an option to screen up to 48 individual microvials at near-equal temperatures
Provides extremely uniform thermal control for high throughput experimentation (HTE) with a temperature difference of +/- 1°C. To achieve the performance specifications of the TCR system, the use of a Lumidox®II TCR 48 LED array is required.
Capable of enhanced Re-producibility in heating and cooling applications
High quality, leak-proof CPC fittings for quick and easy tubing connection
Compatible with a wide range of heat-transfer fluids such as: water (down to 5°C), silicone-based fluids (ie SYLTHERMTM), ethylene glycol, and polypropylene glycol
Designed to standard SLAS dimensions (127.75mm x 85.5mm) with standard 9mm well-to-well pitch
Compatible with auto-samplers and other staples of high throughput chemistry
4mm holes in lid allow for use with most common auto sampler needles
Threaded holes (6-32) in lid for accessory attachment
3.2mm diameter port accommodates standard 3mm thermocouple or cryostat probes for remote temperature measurement
Each TCR unit undergoes a gas-tight and watertight evaluation before they are released

Click image thumbnail or SKU below for specific product details

Image
SKU
Description
Units
Price
Qty / Add to Cart

489900
48 Well Temperature Controlled Reactor

Each

$

1,923.00

489906
Rubber Sealing Mats for TCR

5

$

233.00

489907
PFA Sealing Films for TCR

25

$

151.00

489908
Silicone O-rings for TCR

50

$

24.00

489532
SS Low-Profile Socket Head, Hex Drive Screws

5

$

10.00

488401
Well Tray for TCR - Stackable, with 8x30 Shell Vials

Each

$

30.00

488408
Well Tray for TCR - Stackable, with 8x30 Crimp Top Vials

Each

$

35.00