Safety Waste Caps & Exhaust Filters
Analytical Sales & Services offers a wide variety of Safety Waste screw caps for almost all waste containers on the market. Caps are made from polypropylene with a secondary inner PTFE Core. As with our mobile phase caps, the 2-part design means your tubing will never be twisted and tangled when attaching your waste cap to its waste container. Caps are available with GL45, S51/55, B53, S60/61, B83, or S90 threads configuration, and can handle flow rates up to 500mL. All of the safety waste caps come standard with one port for an exhaust filter, and can accommodate various sized tubing. Exhaust filters are sold separately in 3-, 6- and 12-month sizes, and come with expiry timers. Custom cap options are available, so please let us know if you need something special.


| | | |
| --- | --- | --- |
| | | Diagram: How Safety Waste Caps Function |
| | | |
| --- | --- | --- |
| | | Container Thread Dimensions Guide |
| | | |
| --- | --- | --- |
| | | Diagram: How Safety Waste Caps Function |
| | | |
| --- | --- | --- |
| | | Container Thread Dimensions Guide |
Safety Waste Caps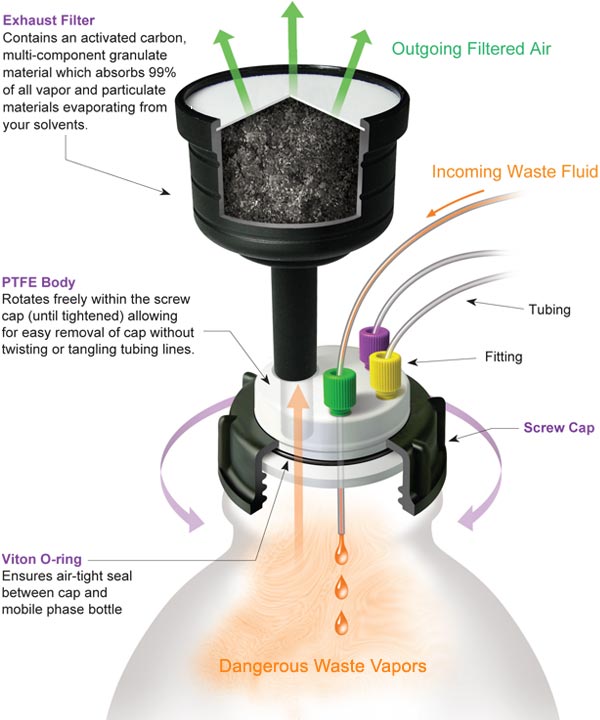 Container Thread
Dimensions Guide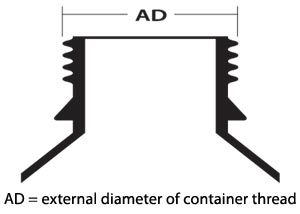 Cap
AD (mm)
Note
GL32
31.5
GL38
37.5
for Wheaton and Nalgene bottles
GL40
40
for Merck bottles
GL45
44.5
B50
50
for space saving can
B51
48
B53
53
for Nalgene bottles and cans
S55
53.5
S60
59
B63
62
for Nalgene bottles and cans
S65
64.5
for KAUTEX cans
S71
70
GL80
80
B83
88
for Nalgene bottles and cans
(approx. 13mm thread lead)
S90
88
S95
94
Note: All dimensions could very +/- 0.5mm depending on the manufacturer.
Collapse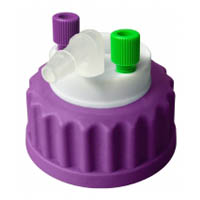 GL45 Safety Waste Caps
Our GL45 Safety Waste caps feature the standard 2-part cap design with a freely rotating inner core, and can accommodate a variety of combinations of ports for 1/8",...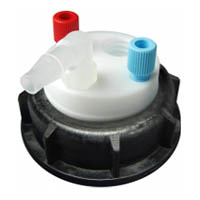 S51/55 Safety Waste Caps
Our S55 safety waste caps with a 360º rotating inner core, are for large waste containers used in Prep HPLC. These caps can accommodate barbed fittings for oversized tubing,...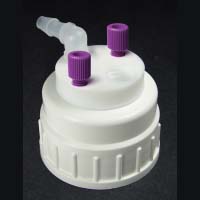 B53 Safety Waste Caps
Our B53 safety waste caps are a great way to keep you your lab safe.  Prevent noxious gases from escaping your waste containers; exhaust filters sold separately.  Custom...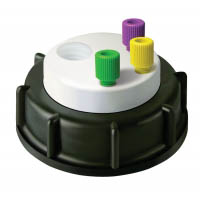 S60/61 Safety Waste Caps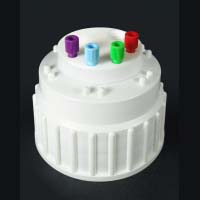 B83 Safety Waste Caps
For large Nalgene waste containers, try our B83 safety waste caps.  They are available with a variety of port numbers and configurations, and thanks to the 2-part cap...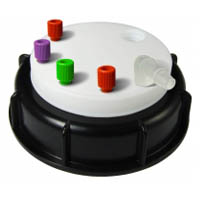 S90 Safety Waste Caps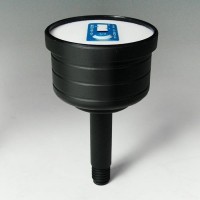 Exhaust Filters
The Canary-Safe charcoal exhaust filters contain an activated carbon, multi-component granular material which absorbs 99% of all vapor and particulate materials evaporating...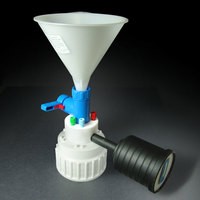 Waste Caps with Funnels
Our safety waste caps with safety funnels are a great option if you have a need to pour your waste out directly from another bottle or source. All waste caps with safety...