SLAS Thermal Transfer Deck + 
The TTD+ has the added benefits of high-end spill-proof fittings (see below)
• Must be used with a recirculating liquid chiller or heater
• Can be attached to Lumidox® II solid base LED arrays for direct cooling of the array
When connected to an external recirculating liquid chiller, our Thermal Transfer Decks can be used as either a chilling plate or hot plate. Apply heat or cold directly to your samples or sample vessels (such as Para-dox® Reaction Blocks), or use it to cool your Lumidox® II solid base LED array. It is compatible with a wide variety of coolants (water, propylene glycol, ethylene glycol, oil, etc.). Recommended temperature range is -40°C to 80°C.
This aluminum thermal transfer deck conforms to SLAS dimensions and fits perfectly with a variety of Analytical Sales' collection plates and Thermal Adapter Plates. It has four (4) 3mm mounting holes which allow for attachment to solid base Lumidox II Arrays as well. High-end valved, spill-proof fittings allow for quick connection/disconnection. Input and Output ports are user configurable, and may be relocated between side and top faces. Units are shipped with side exit ports as standard. Decks are stackable, and multiple decks can be chained together for a total temperature control solution.
Includes:
• 2x 5′ lengths of 3/8″ (9.5 mm) OD tubing with precisely fitted hose-barbed inserts
• 2x 1/4-NPT high-end valved, spill-proof fittings
• 3x 1/4-NPT plugs
Weight: 772.5g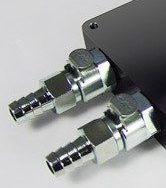 Benefits of High-end Fittings
• Improved functionality and design
• Precise barbed inserts for superior tubing grip
• Fittings feature built-in shutoff valves for preventing spills
• Push-button thumb latches for quick and easy connection/disconnection
These fittings also offer the ability to daisy-chain, or link together multiple TTD+ units, multiple Flow Reactors, or multiple TTD+'s and Flow Reactors together with our Daisy-Chain Connector.
Compatible Apparatus:
• All Lumidox® II solid base arrays*
• 967720TAP and 59623-23TAP Thermal Adapter Plates (warm/cool transfer to polypropylene collection plates)
*We highly recommend that you allow Analytical Sales & Services, Inc. to attach your thermal transfer deck to your solid base array before shipping.
*Note: the Thermal Transfer Deck is not compatible with ACTIVE BASE arrays.