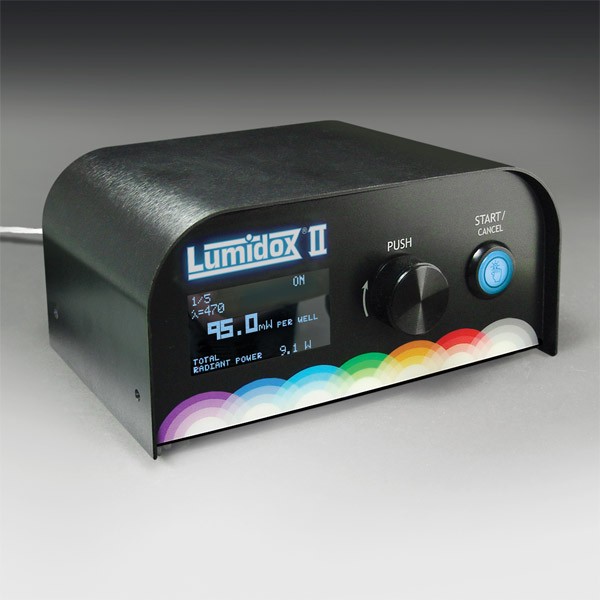 Lumidox® II Controller
Lumidox II Controllers are manufactured in-house. Optical power levels are provided in easy to read, easy to calculate, whole numbers. Simply scroll through the menu to select your desired output. An onboard illumination elapsed timer is provided, as well as a countdown to automatic shut off timer.
LED Arrays and LumLamps are custom tuned in-house and provide 5 individually calibrated and configured levels of optical power. Arrays and LumLamps are not unique to controllers. Their calibration data is stored onboard, allowing users to use different arrays or LumLamps with one controller (only one device at a time per controller).

Click image thumbnail or SKU below for specific product details

Image
SKU
Description
Units
Price
Qty / Add to Cart

LUM2CON
Lumidox® II LED Controller

Each

$

2,459.00

Related Products:


Image
SKU
Description
Price
Qty / Add to Cart

Lumidox® II 96-Position Discovery LED Array 1 (3 UVs)

$

1,463.00 –

$

1,816.00

Lumidox® II LumLamp

$

518.00 –

$

571.00

Lumidox® II 96-Well LED Arrays

$

842.00 –

$

2,121.00

Lumidox® II 96-Well LED Arrays with Lens Mat

$

875.00 –

$

2,121.00

Lumidox® II 24-Well, 18mm Spacing LED Arrays

$

806.00 –

$

1,376.00