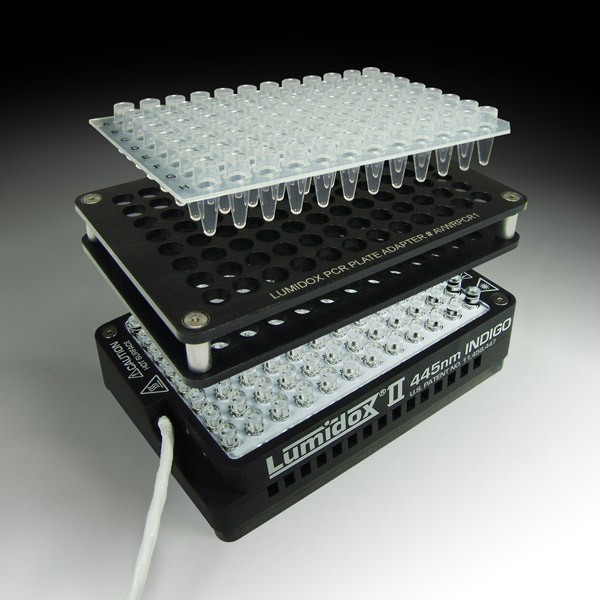 PCR® Plate Adapters for Lumidox

If your workflow involves the use PCR plates, then Lumidox® II Lens Mat Arrays are perfectly suited for your research. Lumidox II Arrays generate highly precise, wavelength-specific light for the 96-position PCR plate format. They incorporate an ultra-clear, chemically inert lens mat which delivers exceptional light transfer to your samples. They work great with many different types of PCR plates when used with Analytical Sales' custom PCR plate adapters.
PCR Plate Adapters
96-well PCR plates integrate seamlessly with our Lens Mat arrays with the help of plate-specific adapters made by Analytical Sales. Our adapters align each well of your plate directly above each LED in the array. The protrusions or "tips" on the lens mat of the array directly touch or "couple" with the bottom of the wells in the plate. This allows optimal light transfer directly into the samples.
*Note: Analytical Sales may require that you send us 1-2 plates for measurement & evaluation to ensure dimensional accuracy and to provide a fast turnaround for your plate-specific adapter

Click image thumbnail or SKU below for specific product details

Image
SKU
Description
Units
Price
Qty / Add to Cart

AVWRPCR1
PCR Plate Adapter for Lumidox®II LED Arrays

Each

$

50.00

Related Products:


Image
SKU
Description
Price
Qty / Add to Cart

969610
Clear 200µL PCR Plate

$

287.00

969610B
Blue 200µL PCR Plate - Flat Well Rim

$

287.00

969620
Clear 250µL PCR Plate

$

270.00

969620B
Blue 250µL PCR Plate

$

270.00

96-9619
Clear 100µL Low Profile PCR Plate - No Skirt

$

288.00

96-9619B
Blue 100µL Low Profile PCR Plate - No Skirt

$

287.00

96726
6mm Silicone/PTFE Cap Mat

$

51.00

96104
Silicone Adhesive Sealing Film, Round 96-Well Pattern

$

51.00