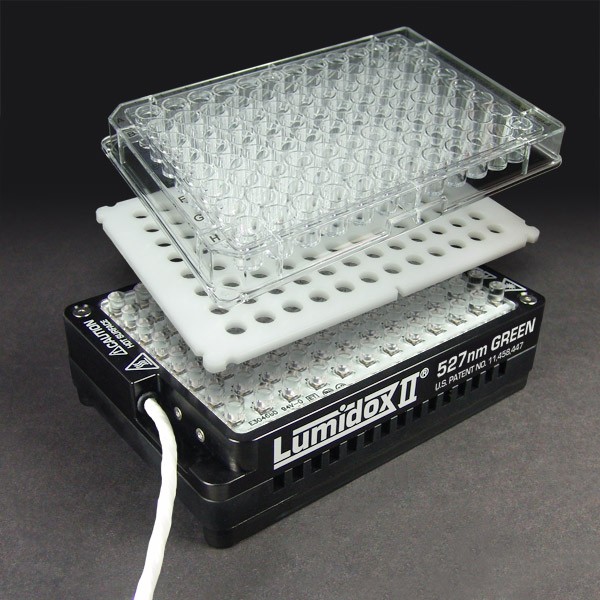 Cell Culture Plate Adapters for Lumidox
Cell Culture Plate Adapters
24 and 96-well cell culture plates integrate seamlessly with our Lens Mat arrays with the help of plate-specific adapters made by Analytical Sales. Our adapters align each well of your plate directly above each LED in the array. The protrusions or "tips" on the lens mat of the array directly touch or "couple" with the bottom of the wells in the plate. This allows optimal light transfer directly into the samples.
Adapters immediately available for the following plates:
Cellvis P96-1.5H-N
Greiner 655180
Corning Costar cell culture plates
Eppendorf cell culture plates (contact us with your specific plate)
Thermo Scientific Nunc MicroWell plates
Perkin Elmer ViewPlate (formerly Packard ViewPlate)
Adapters available for any standard cell culture plate by request.
*Note: Analytical Sales may require that you send us 1-2 plates for measurement & evaluation to ensure dimensional accuracy and to provide a fast turnaround for your plate-specific adapter.

Click image thumbnail or SKU below for specific product details

Image
SKU
Description
Units
Price
Qty / Add to Cart

A655180
Adapter for Lumidox LED Arrays, for use with Greiner 655180 Plate

Each

$

25.00

AP9615HN
Adapter for Lumidox II LED Arrays, for use with Cellvis P96-15H-N Well Plates

Each

$

30.00

A204625
Adapter for Lumidox II LED Arrays, for use with Cell Culture Plate Part # 96624

Each

$

30.00

A204627
Adapter for Lumidox II LED Arrays, for use with Cell Culture Plate Part # 96626

Each

$

30.00

ACRCLP01
Adapter for Lumidox II LED Arrays, for use with Corning Cell Culture Plates

Each

$

30.00

A6005430
Adapter for Lumidox II LED Arrays, for use with Perkin Elmer ViewPlate (Packard ViewPlate)

Each

$

40.00

A204628
Adapter for Lumidox II LED Arrays, for use with Cell Culture Plate Part # 384628

Each

$

30.00

ACRCLP03
Adapter for Lumidox II LED Arrays, for use with Corning 2592 Plate

Each

$

30.00

ACRCLP02
Adapter for Lumidox II LED Arrays, for use with Corning 3631 Plate

Each

$

30.00

A655097
Adapter for Lumidox II LED Arrays, for use with Greiner 655097 Plate

Each

$

30.00