Blog
By: ASAS Team
Using Lumidox® II Lens Mat LED Arrays with Cell Culture Plates
Published: December 29, 2021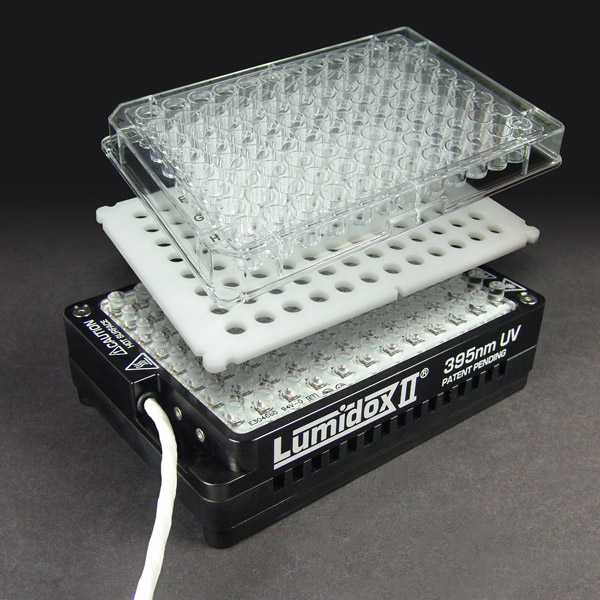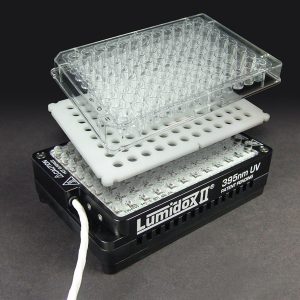 If your workflow involves the illumination of samples in cell culture plates, then Lumidox® II Lens Mat LED Arrays are perfectly suited for your research. Lumidox® II Arrays generate highly precise, wavelength-specific light for various scientific/biological research processes. Lens Mat Arrays work great with optically clear, flat-bottom cell culture plates when used with Analytical Sales' custom cell culture plate adapters.
Customers have been very successful using cell culture plates with our Lumidox® II LED Lens Mat Arrays to perform the following research:
Photoconverting live mammalian cells with Dendra protein for fluorescent imaging days after photoconversion
Testing of light-induced toxicity of certain compounds on different cell lines for photodynamic therapy applications
Studying the photothermal effects of compounds in live cells
Testing photodynamic therapy of various innovative compounds on live cells
The use of photodynamic therapy as a type of cancer treatment
Cell Culture Plate Adapters
Thanks to our custom-designed, plate-specific adapters, our 24-position (9mm spacing) and 96-position Lumidox® II Lens Mat LED Arrays integrate seamlessly with cell culture plates. Our adapters align each well of the plate directly over each LED in the array. The protrusions on the lens mat couple with the bottom of the wells in the plate, allowing optimal light transfer directly into the samples.
Adapters are now available for the following cell culture plates:
Cellvis P96-1.5H-N
Greiner 655180
Corning Costar cell culture plates
Eppendorf cell culture plates (contact us with your specific plate)
Perkin Elmer ViewPlate (formerly Packard ViewPlate)
Adapters for any standard cell culture plate are available upon request.