Lumidox II Video
See Lumidox® Gen II  in action! This video shows a 470nm Blue LED Array with Lens Mat surface and Active Cooling Base used in conjunction with a 96-well photoredox reaction block. We'd like to thank @danithechemist for posting this video!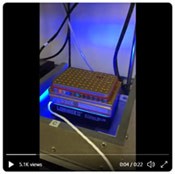 See Lumidox Gen II Products
Photoredox – Use Stackable Tray with Vials for Less Evaporation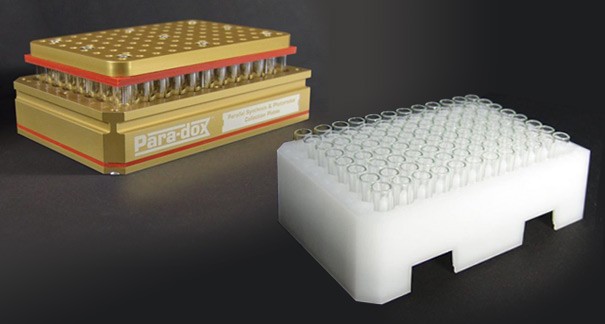 When selecting vials for 96-well Photoredox or Parallel Synthesis Optimization Blocks, we recommend using our Stackable Tray loaded with 8 x 30mm shell vials (part no. 884001). Our thorough QC process ensures top performance with less evaporation compared to loose vials.
Also, our Stackable Tray with Vials:
Makes loading and transferring your vials easier!
Can be used with Powder Transfer Plate (part no. 96T105) to mix/transfer powders between vials
Can also be used as a stand-alone collection/sampling device
Vials used in our loaded trays are thoroughly QC'd in-house during the assembly process to eliminate imperfections that lead to evaporation issues.
Check out: Stackable Tray loaded with 8 x 30mm shell vials
COVID-19 Won't Stop Our Production and Future Research
As a valued customer and partner, we appreciate your business with Analytical Sales and Services, and we would like to keep in touch with you on a regular basis, especially now, when COVID-19 has presented challenges to usual business practices globally.
An order issued by New Jersey, Governor Murphy, requires New Jersey residents to stay home except as needed to perform work providing essential products and services at essential businesses or operations, which includes healthcare and public health operations.
Analytical Sales and Services' business is squarely based in life sciences and high throughput device operations specifically and is permitted to continue its important work. The order permits manufacturers that are necessary for the medical equipment supply chain to continue operations.
Analytical Sales and Services wants to ensure your supply chain without disruptions, and we would like to ask for your input on the following:
Have any of our products become critical to your needs recently?
Will you be requiring higher volumes, quick turnaround, especially use in COVID-19 related business?
If this is the case, can you give us an estimate of the volumes you will be requiring (with part numbers) until August 2020. Understanding your needs will allow us to plan with production, shipments and will ensure a swift response from our side.
We appreciate your input and collaboration during these unusual times. If you have any questions, please feel free to reach out to us.
Welcome to the new Analytical-sales.com web site!
Analytical Sales & Services, Inc. is very pleased to announce the launching of our brand new web site. We've combined our former two web sites into one to give you a clearer, more informative user experience. Changes include more detailed product content and an improved overall shopping experience.