Blog
By: ASAS Team
Sample Clean-up Requires Quality Filters
Published: July 9, 2020
Analytical Sales & Services has invested years of development time designing our unique protein crash filter membrane. Our protein crash plates are manufactured, assembled and QC'd in our NJ facility.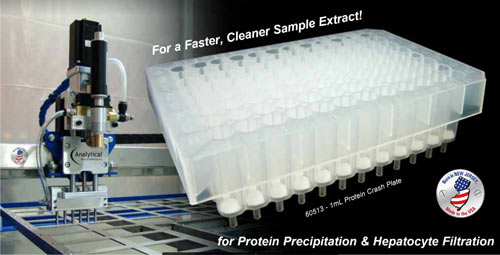 We are proud to offer such a high quality and versatile sample preparation tool!
Usage:

Protein crash (blood products, urine, CSF, etc…)
Phospholipid depletion
Many others: Microsomes, etc…

Membrane Properties:
(One material does it all!)

Hydrophobic
0.45-1.0 um Frit
Hydrophilic

Benefits:

Faster preparation time
Decreases wear on injector valves, seals and reduces clogged column frits.
Possibly reduce matrix effect within LC-MS/MS API source.

Unique Manufacturing/Properties:

Proprietary membrane
No metal retainer ring or glues used
No leaking: 

MeOH

 & 

ACN

 retained for several hours!

Our unique vacuum manifold provides all the required features hard plumbed for you!

On/Off toggle, Vacuum gauge & Adjustment valve
It is also very versatile fitting various collection plate sizes!


EquaVap, our solvent evaporator, will also expedite your prep time!

Layered internal baffles provide equal flow to ALL wells!

Easy reproducible height adjustment.

Space saving 8″ square base
We also have a wide offering of options for:
Shorter 400uL filter plates are also available within our 96-Well filter plate listings. These are great for some automation and taking up less lab space!