Blog
By: ASAS Team
New! Temperature Transfer Cover for 24-Well, 18mm Spaced Reactor Blocks
Published: February 9, 2022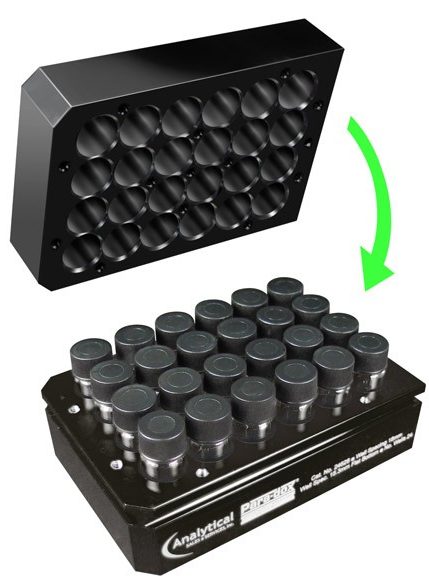 For any research it is crucial that data is consistent and accurate, and many researchers have their own methods and procedures to achieve their desired results. When using 15mm OD, 1 Dram vials in 24-well reactor blocks, there are those who prefer to cap their vials instead of sealing them with the standard aluminum cover, rubber mat and PFA film. Analytical Sales and Services' new Temperature Transfer Cover provides the flexibility to maintain a user-specified temperature in your vials/samples when used in conjunction with a Thermal Transfer Deck (TTD) and external liquid chiller. The cover's 17mm diameter, 20.5mm deep wells have been meticulously designed to ensure the highest aluminum-to-aluminum ratio for maximum heat dispersal.
Even with a TTD attached to the bottom of a solid base Lumidox II LED array, a reactor can absorb a great deal of heat, with some users reporting temperatures as high as 85ºC when the Lumidox is set to Stage 5. Users can attach an additional TTD to the Temperature Transfer Cover and daisy-chain it to the lower TTD for an all-encompassing cooling solution. With the cover, users can maintain whatever temperature they like. Typically, they set their chiller at or slightly above (25ºC) room temperature.
The vials themselves provide the alignment for the cover, but for extra stability users can secure the cover with twelve (12) screws which are in the same arrangement as a standard flat lid. There are also four (4) holes (screws included) in each corner for easy TTD removal and attachment. The two (2) thermocouple locations are the same as a standard lid, with one of the holes being close to the edge. This hole has a side-notch/groove that allows users to use a thermocouple even with a TTD attached to the top lid. As an additional perk, the lid also has the ability to be flipped over and used as a reactor or vial tray.