Blog
By: ASAS Team
New 2023 Catalog
Published: April 13, 2023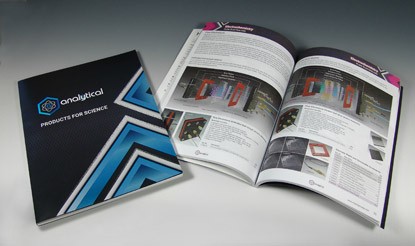 Analytical is excited to announce the release of our refreshed product catalog for 2023. This new edition brings a myriad of updated artwork with streamlined and reorganized product sections. We have added some major new products as well! Our Temperature Controlled Reactor (TCRs) are fluid-filled reactors that provide extremely uniform thermal control for HTE. A full complimentary line of 48 well LED arrays for the TCR reactors is available as well. The very newly released Flow-Through Base LED arrays offer the most optimal cooling efficiency of all of our LED arrays (check out our LED array Comparison guide here). Both the TCRs and Flow-Through Base LED arrays can be connected directly to recirculating chillers, and feature high end, leak-proof CPC fittings.
We've also added a full section on our Divided and Undivided Flow Cells for Flow Electrolysis.
Undivided Cell (single stream) Assembly:

Both electrodes are washed within the same electrolyte, and only one fluid circuit is used; the opposite side of the cell is sealed and without holes, allowing for low-resistance reactions.
Divided Cell (single stream) Assembly:

The electrodes and flow channels are separated by a Nafion membrane, allowing for reactions that produce separate input systems. This can be beneficial if the two electrolyte solutions are incompatible or if the products are difficult to separate.
Our Flow Electrolysis Cells allow for heightened selectivity and yield when compared to flask-based reactors, and require minimal new equipment to use.
Last but not least, our expanded Parallel Synthesis, Photoredox Catalysis, and Electrochemistry sections now contain a much more comprehensive overview of our Para-dox® and Lumidox® II product lines.
These are only a handful of the changes that can be found within the 2023 catalog, and Analytical trusts that this new version will be informative and convenient. As always, this product guide was designed with our customers in mind so they can quickly and easily source and order the right products for their research.
Please feel free to download or request a print catalog here.