Blog
By: ASAS Team
Analytica 2022 Trade Fair
Published: July 14, 2022
Located in Munich, Germany, Analytica has been the world's leading trade fair for the presentation of cutting edge, innovative laboratory technology and biotechnology for nearly 50 years. It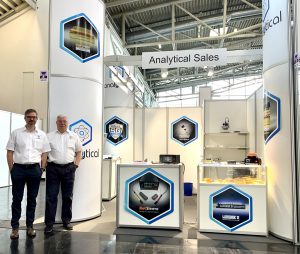 is one of the world's largest industry gatherings for products and services, and many leading figures and decision-makers in modern laboratory processes attend. This year, 891 exhibitors from 39 countries, and more than 26,000 guests from 114 countries attended.
During our time at the show, nearly half of our booth visitors were particularly interested in our Photoredox as well as our HTe-Chem products. Analytical has a wide selection in both product lines. Our Photoredox reaction blocks are specifically designed for high-throughput reaction screening, making them ideal for medicinal chemistry, and the SBS format allows for use in any industry standard automation application.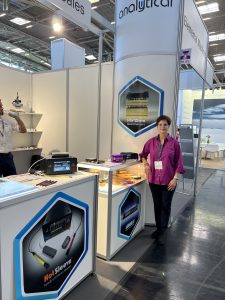 Our new Hte-Chem assemblies allows for broad electrochemical reactions with the use of Analytical's standard 24-well minirack platform. These assemblies allow for an accelerated workflow by permitting multiple simultaneous constant currents, constant voltage, and/or electrophotochemical experiments to be run. Our Hte-Chem line currently has two optimized setups: constant current and constant voltage. The constant current option allows for a precise current that is maintained by the power supply throughout the reaction, and voltage will
automatically adapt to changing conditions during the reaction. The constant voltage option allows for precise voltage and is maintained by the power supply. Much like the constant current setup, the current will automatically adapt based on changing electrical conditions during the reaction. Analytical is currently in the process of expanding both our Photoredox and Hte-Chem product lines.
The Analytical team had a blast at Analytica 2022 and had a ton of fun connecting with fellow colleagues- both new and old- and learning about how current and upcoming trends are shaping the industry. We are already looking forward to Analytica 2024 and are excited to unveil the progress and new products we have made since Analytica 2022.